A custom deck is a great place to entertain — or to relax when it's just you
A new deck has a double effect: it makes a significant visual impact on the appeal of the home when seen from the outside; and it makes a big difference in how the family is able to enjoy their home. We take the time and effort to ensure that the deck we build for you makes the most of both of these attributes. Decks can be built with a variety of materials, so we will make sure you understand the plusses and minuses of each one. A custom deck built by LaRoche Builders will give you decades of enjoyment and enhance the value of your home.
The right deck is waiting for you.
Different homeowners will expect different uses from their custom deck. A family with young children will have different requirements than a retired couple who don't wish to climb many stairs. And of course your deck must suit the property itself: is it hilly? is it shady? is it secluded or in a settled neighborhood? At LaRoche Builders, based in Stafford, Connecticut, we have the experience and full range of services to assist you in creating the custom deck you've always wanted.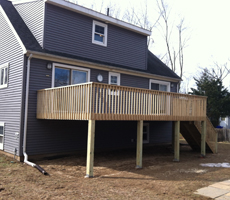 Decks built by an experienced, full-service custom home builder have a quality of design and construction that an ordinary carpenter will not be able to
equal. Call 860-851-8800 today and let us show you the difference.