Log and Post & Beam Homes
A log cabin's rustic charm can have all the modern appointments and amenities.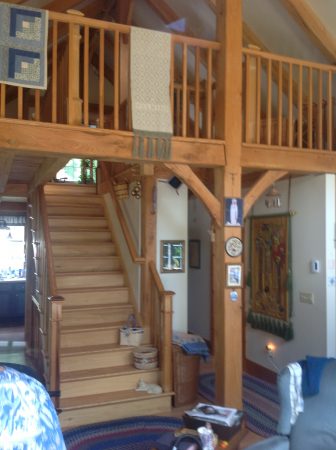 A modern, newly-built log cabin is the perfect place to enjoy the beauty of Connecticut or Southern Massachusetts. When building a log cabin home for a client, we always take the time to visit the client's residence or plot. We consider the natural surroundings and scenic views, not to forget nearby properties and other factors that will affect how the home will be enjoyed. It's all part of our full-service yet the immensely customer-friendly approach to building log cabins and other projects.
Your log cabin home will be built just for you.
LaRoche Builders are based in Stafford, Connecticut, and is a full-service builder. With everything from site consulting services, to our excavation equipment, down to finish carpentry. As part of our promises, we simplify the process of building a cabin home. Furthermore, all these services under one roof will help ensure your voice is heard, your goals are met, and that your log cabin home lives up to the client's expectations for years to come.
Creating post and beam homes using timeless craftsmanship and contemporary technology
The open rooms and bright, airy spaces of a post and beam home are something that many families find incredibly welcoming and elegant. The soaring wood ceilings and exposed post and beam frame are not only beautiful but extremely strong and versatile. LaRoche has been building post and beam log homes in Connecticut and southern Massachusetts since 1986. We have the experience and talent to bring these qualities to life for your log home, not only in your envisioned home-style but also from sound engineering to the finished details.
Your post and beam home are waiting to be created.
In most cases, the post and beam log homes we build are new construction. However, the Post and beam log style can work effectively with an addition. Although, if the original home has a different architectural style, we will construct it to match to perfection. When we plan your construction project, we can help you effectively ensure it is structurally strong, pleasing, and beautiful. Most importantly let LaRoche, allow you to make this project efficient and effective. To end with the best post and beam log home possible for your family.
Now is the time to get started building the post and beam home you have always wanted! Call us today!